1ST TENNESSEE VOLUNTEER CAVALRY

---
These pages are being put together based primarily on the W. R. Carter history of the Regiment. More to be added. Please check back. - Erik Weems
---
1ST TENNESSEE ORIGINAL ORGANIZATION
(From the Carter book) The first company organized for the
regiment was Company A, yet the first seven companies were
organized during March and April. The following is the
original list of company officers and the order in which they were recruited :
COMPANY A.
Captain, Charles L. Barton; First Lieutenant, John H. Trent;
Second Lieutenant, Moses Wiley.
COMPANY B.
Captain, Richard M. Baldwin; First Lieutenant, Gideon Wolf:
Second Lieutenant, George Odom.
COMPANY C.
Captain, James P. Brownlow; First Lieutenant, Morgan T.
Burkhart ; Second Lieutenant, Elbert J. Cannon.
COMPANY D.
Captain, Alfred J. Lane ; First Lieutenant, W. R. Willoughby ;
Second Lieutenant, George W. Cox.
COMPANY E.
Captain, Henry G. Flagg; First Lieutenant, Charles H. Burdick;
Second Lieutenant, William Thurman.
COMPANY F.
Captain, Thomas J. Capps ; First Lieutenant, Robert A. Wooten ;
Second Lieutenant, John A. Gray.
COMPANY H.
Captain, John A. Gray (promoted from second lieutenant Com
pany F to captain Company H) ; First Lieutenant, Calvin M. Dyer;
Second Lieutenant, Edward Simpson.
The above companies were organized at Camp Garber
and all sworn into the United States service for three years
or during the war. The Fourth Tennessee was not mustered at its organization owing to the fact that no mustering officer was present to perform that duty.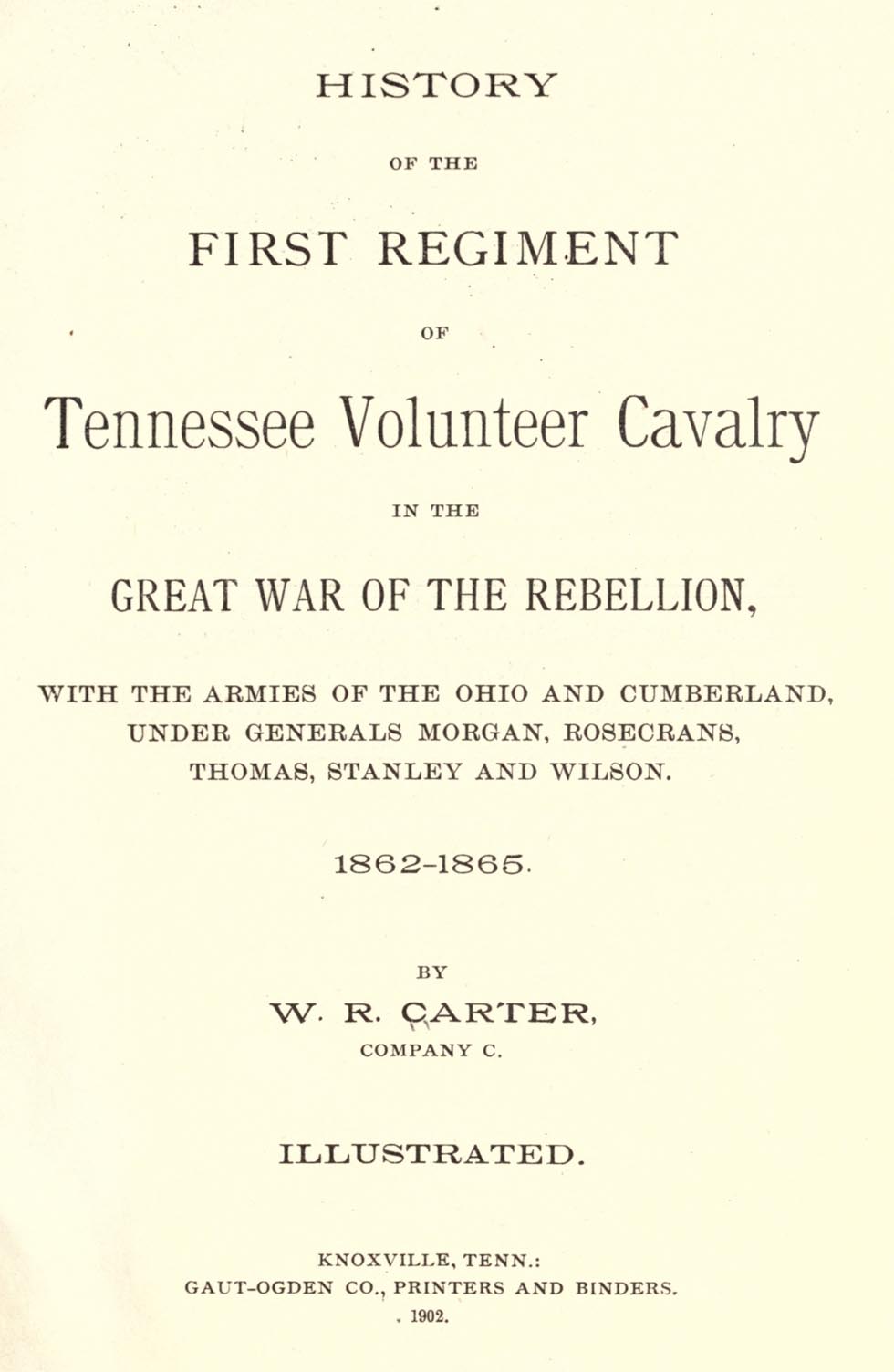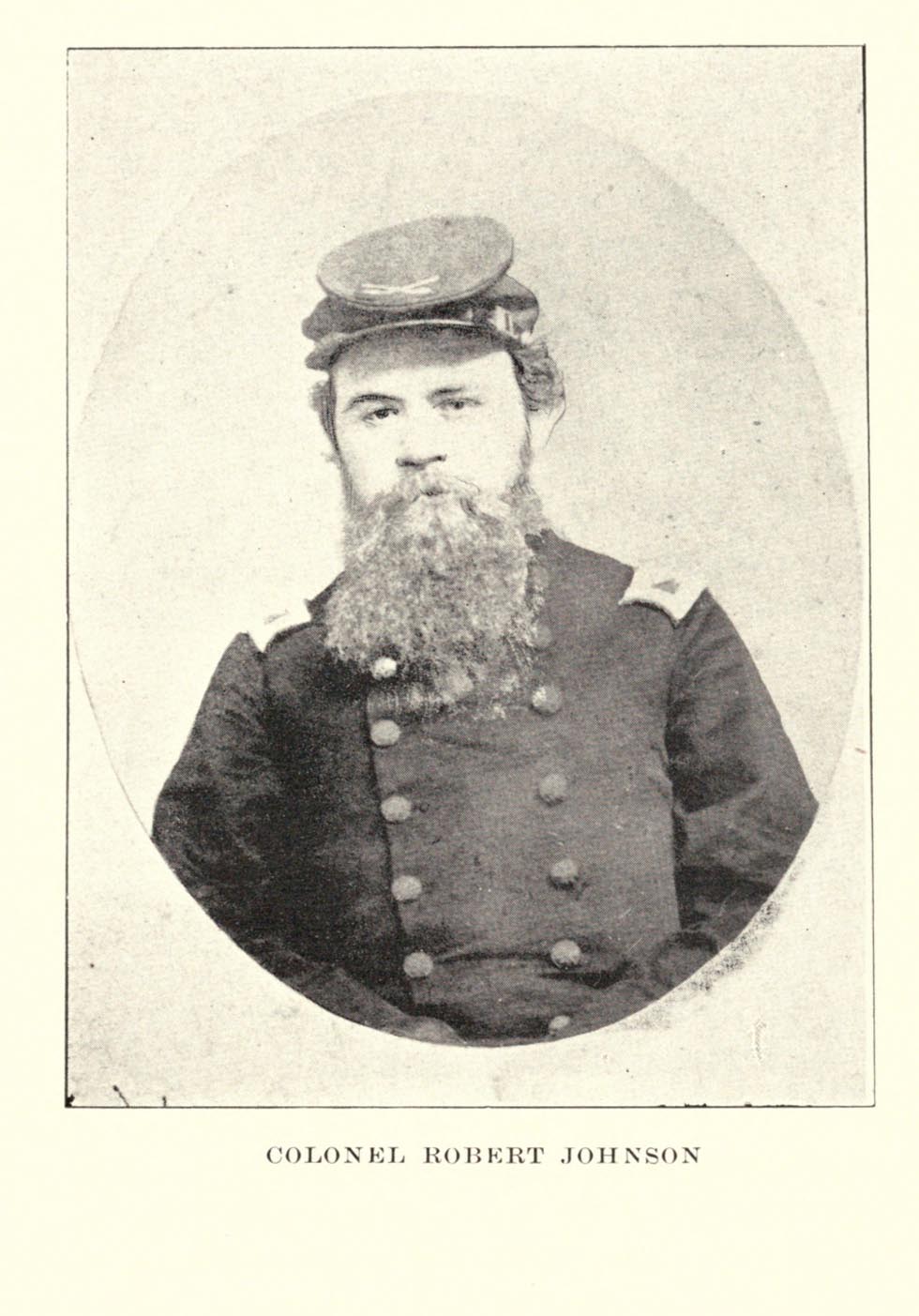 ---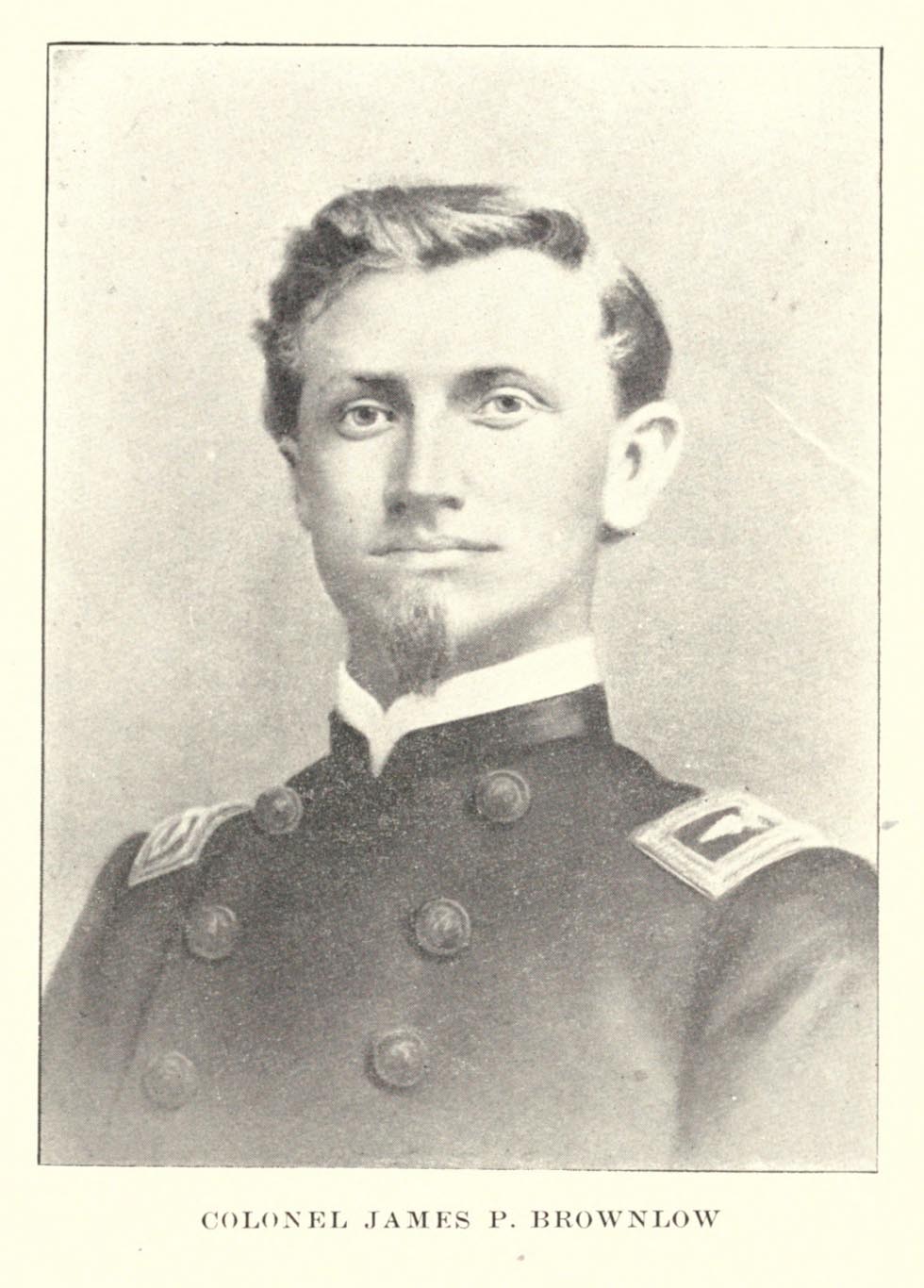 (From the Carter book)
James P. Brownlow, captain of Company C, the youngest captain in the regiment, was promoted. He was the youngest son of Rev. W. G. Brownlow, of Knoxville, more familiarly known as Parson Brownlow, one of the leading Unionists of East Tennessee and editor and proprietor of Brownlow's Knoxville Whig. Captain Brownlow was just nineteen years old when he was promoted to lieutenant-colonel of the Fourth Tennessee Volunteers. He was tall and well proportioned, with keen, penetrating, gray eyes. He was a soldier of fine ability, full of enterprise, energy and courage. He was never heard to say "Go, boys," but always, "Come on, boys!" Agreeable in his manners and accessible to all, he was strictly honorable in all of his dealings with men and the government.
---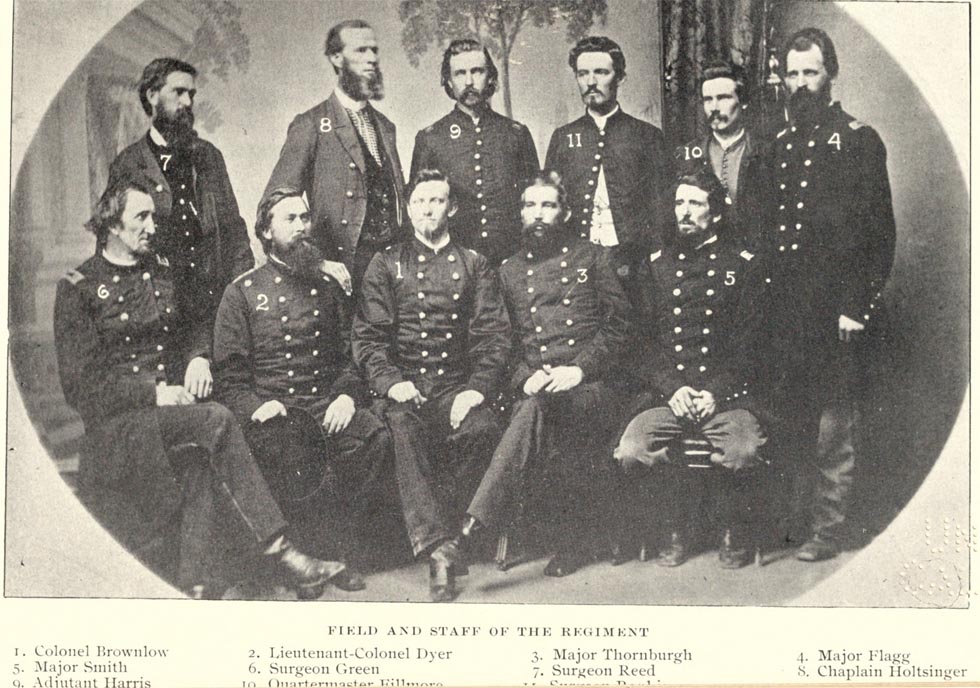 ---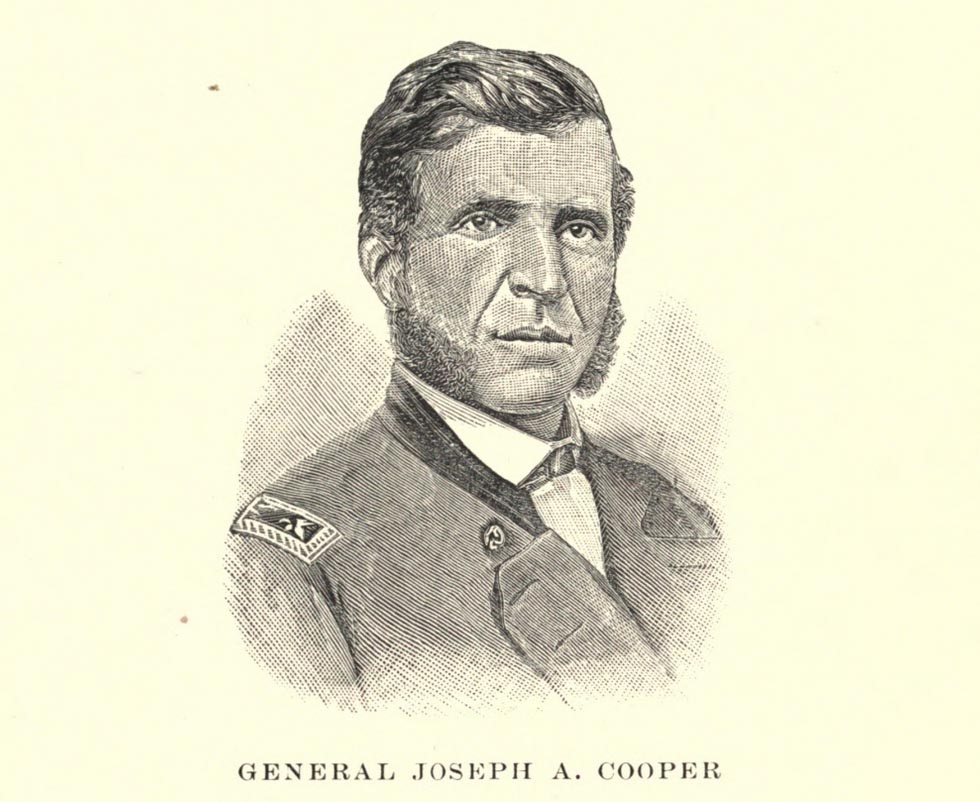 General Joseph A Cooper
---
Evacuation of the Cumberland Gap, 1862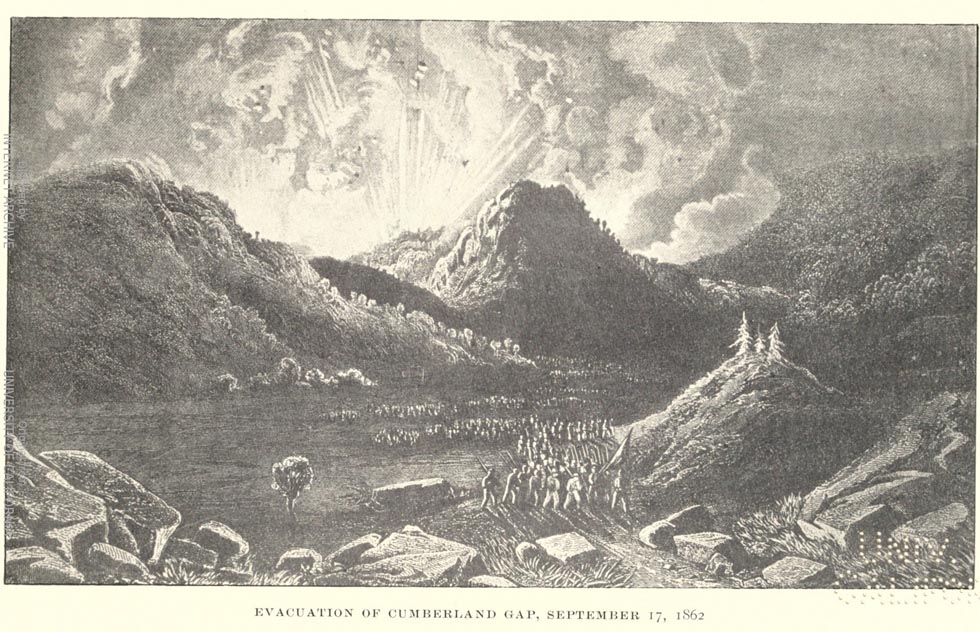 ---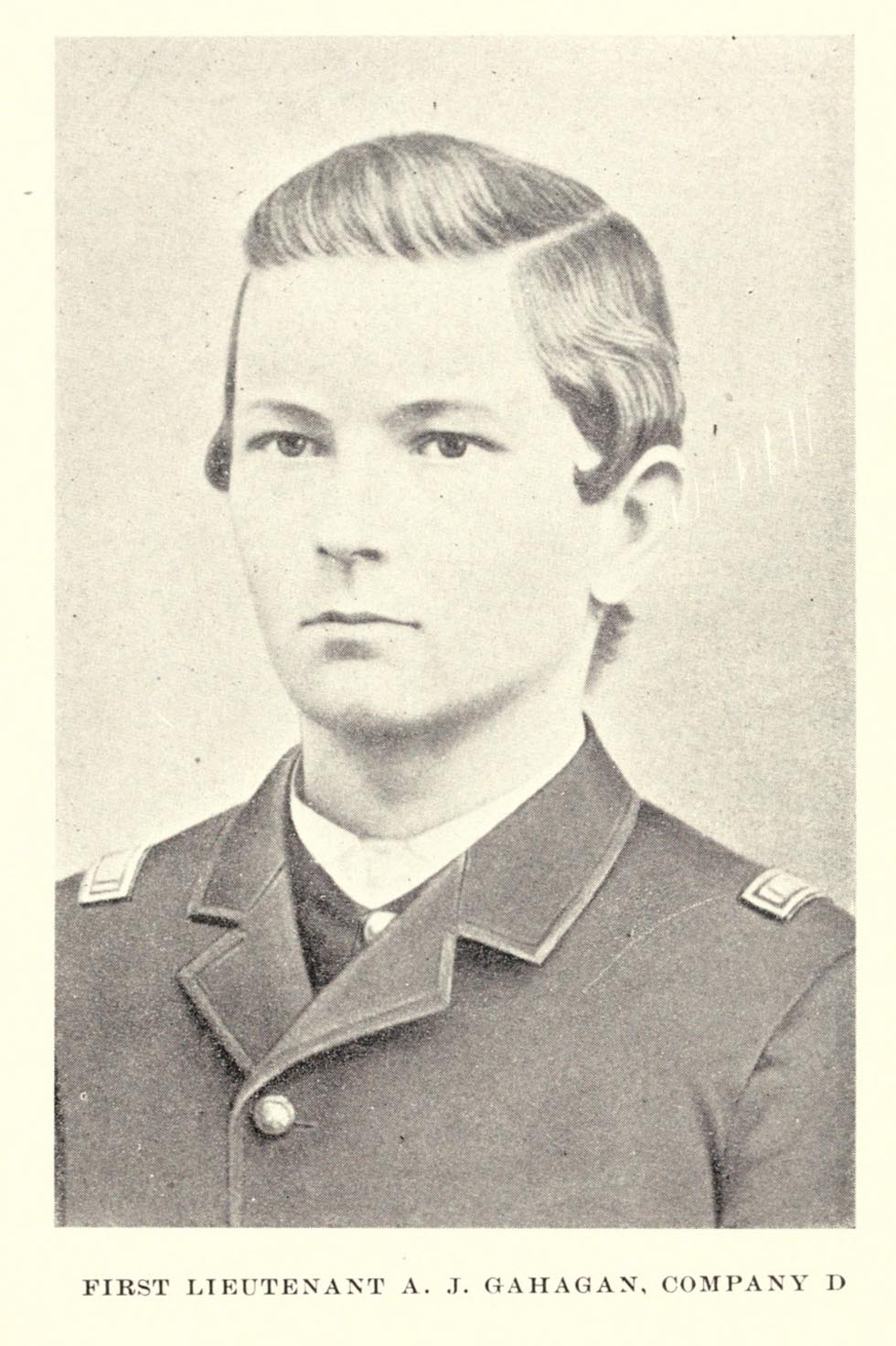 First Lieutenant A J Gahagan
---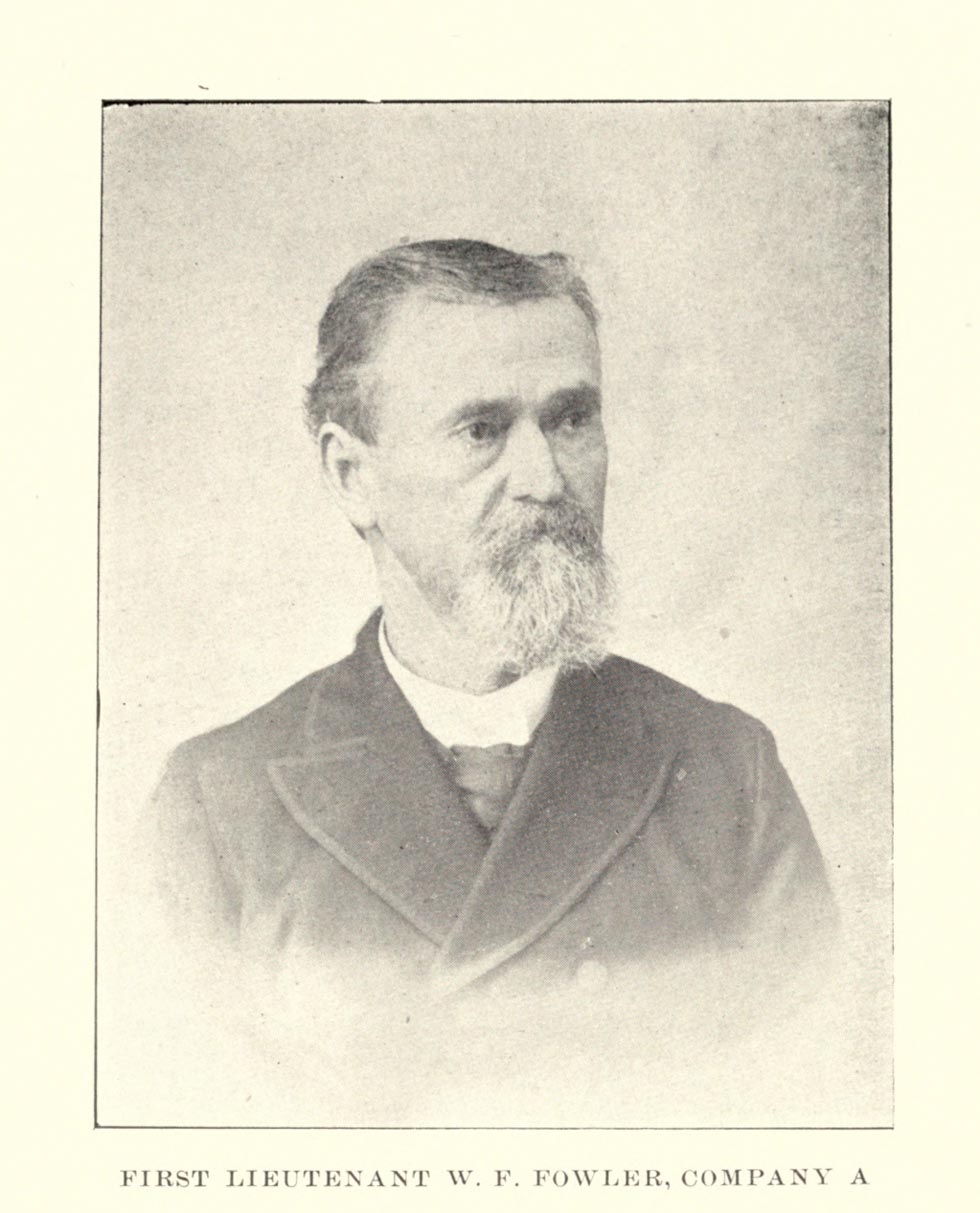 First Lieutenant W F Fowler
---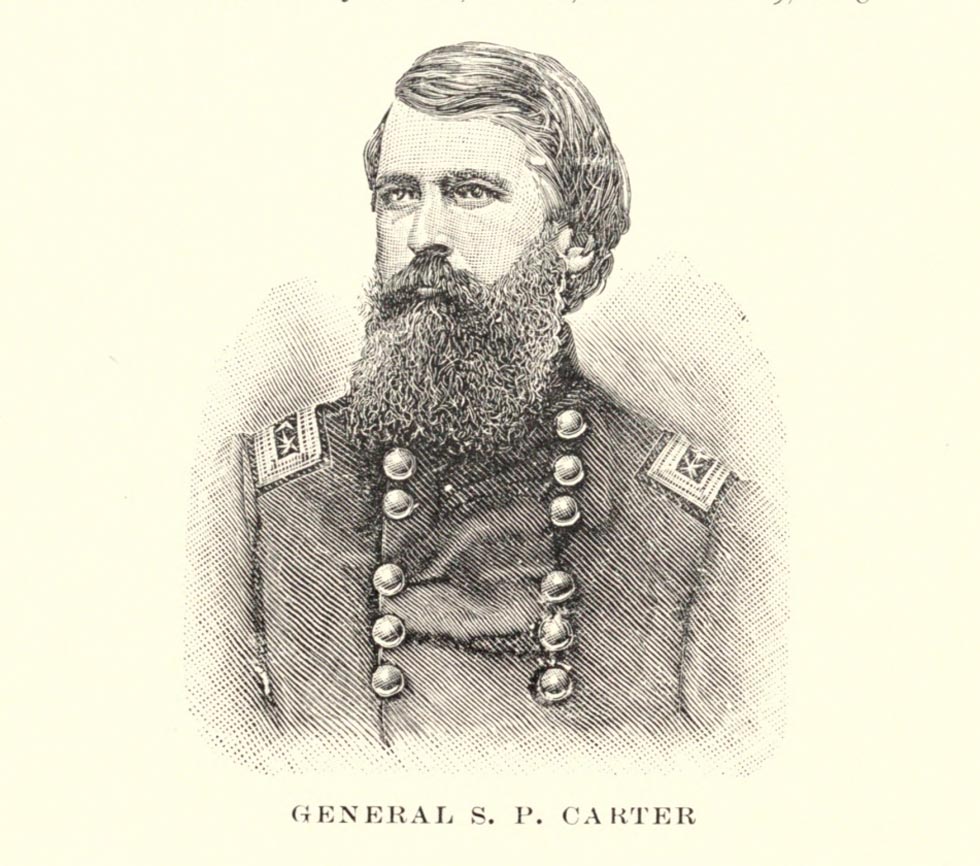 General S P Carter
---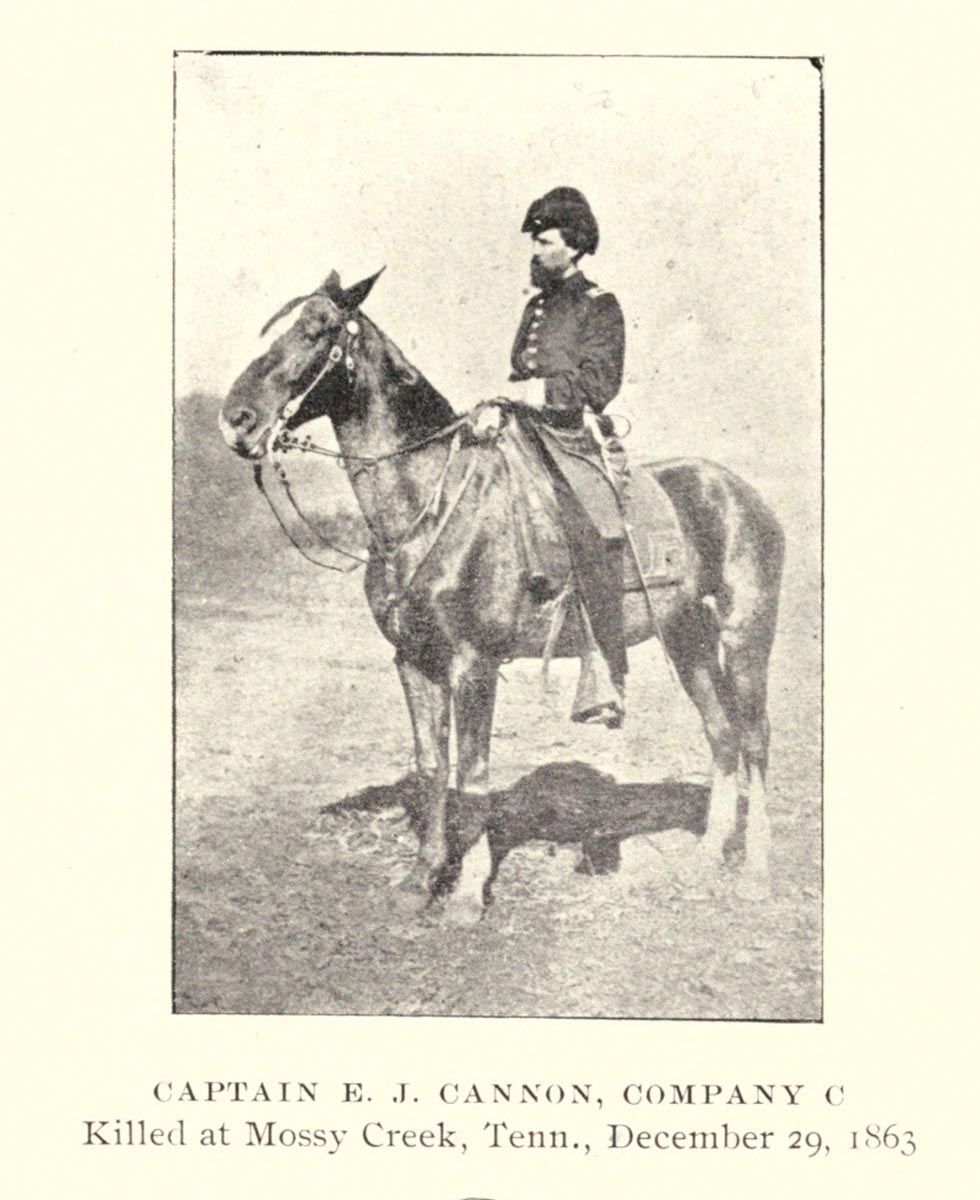 Captain E J Cannon
---
Battles and Casualty Count for the First Tennessee Regiment
From the Carter book - Page 260-261:
The total enrollment of the First Tennessee during its term of service, from the best and most reliable source, was fourteen hundred and ninety-three men. The regiment lost in killed and died of wounds and disease, three hundred and thirty-three men. Those that died in prison are included in this list. Three men from Tennessee committed suicide during the war and one of this number was from the First Tennessee.
The most frequent causes for discharge from the army were gunshot wounds, consumption, diarrhea and typhoid fever. The largest number of deaths from disease in the army occurred from chronic diarrhea and fever.
The First Tennessee lost more men from fever than any other disease. During the war there were two hundred and ninety-eight battles fought in Tennessee, Virginia alone exceeding the "Volunteer State."
The seven National Cemeteries located in Tennessee contain the remains of fifty-seven thousand and five of the Union dead who gave up their lives in order that this great and growing country might remain undivided. The largest cemetery in Tennessee is located at Nashville. The remainder are given in the order as to the number of interments in each: Memphis, Chattanooga, Stone River, Pittsburg Landing, Knoxville and Fort Donelson. Their graves are kept green at the expense ofthe government they helped to save, and their surviving comrades and friends on each 30th of May perform a loving and patriotic duty by recounting what they did in song and story and the placing of flags and Mowers upon their graves. The dead of theFirst Tennessee lie buried in all of the cemeteries of their native State, with the exceptions of Pittsburg Landing and Fort Donelson.
The First Tennessee met the enemy at the following places:
Cumberland Gap, June 18, 1862; Rigg's Cross Roads, Tenn., April 16, 1863 ; College Grove, Tenn., May 8, 1863 ; Rover, Tenn., June 23, 1863 ; Middletown, Tenn., June 24, 1863; Shelbyville, Tenn., June 27, 1863; Lafayette, Ga., Sept. 13, 1863; Chickamauga, Ga., Sept. 19 and 20, 1863 ; Sparta, Tenn., Nov. 30, 1863 J Dandridge, Tenn., Dec. 24, 1863 ; Mossy Creek, Tenn., Dec. 29, 1863 Fairgarden, Tenn., Jan. 27, 1864; Varnell s Station, Ga., May 9, 1864; Resaca, Ga., May 14, 1864; Burnt Hickory, Ga., May 26, 1864; Brownlow s Hill, or Acworth, Ga., June 4, 1864; Lost Mountain, Ga., June 16, 1864; Mason s Church, Ga., July 23, 1864; Lovejoy s Station, Ga., July 29, 1864; New- nan, Ga., July 31, 1864; Lavergne, Tenn., Sept. i, 1864; Franklin, Tenn., Sept. 2, 1864; Campbellsville, Tenn., Sept. 5, 1864; Pulaski, Tenn., Sept. 27, 1864; Shoal Creek, Ala., Nov. 5, 1864; Hurt s Cross Roads, Tenn., Nov. 29, 1864; Franklin, Tenn., Nov. 30, 1864; Nashville, Tenn., Dec. 15 and 16, 1864; and Lynnville, Tenn., Dec. 24, 1864.
In addition to these engagements the regiment had scores of skirmishes, some of which were quite severe, and the writer is unable to recall a single instance in which the First Tennessee ever refused or failed to execute any order given to it, no matter how difficult and dangerous the execution appeared. Colonel Brownlow was never heard to say "go, boys," but always "come." Lieutenant-Colonel Dyer led the regiment with equal gallantry after Colonel Brownlow was wounded.
---
Carter's Parting Message
From the Carter book, Page 268
Now, comrades of the First Tennessee, I have attempted to follow your movements for three years and to correctly record your deeds and the part you took in the great struggle, but will let you judge of their correctness.
I have followed as best I could your movements in the States of Virginia, Kentucky, Ohio, Tennessee, Alabama, Georgia and Mississippi, the States in which you performed distinguished service. And now, having followed all of your movements from enlistment to muster-out at Nashville, the capital of your own State, and being unable to follow you any further or to accompany each one of you home, I will leave you and bid each one a long and affectionate farewell.
Comrades, it has been one of the most pleasant duties of my life to write a history of your service. But remember, comrades, this has been no small undertaking, and if any errors have been made they are of the head and not the heart.
Since the close of the war the surviving members of the regiment have organized an association known as "The First Tennessee Cavalry Association," which meets annually. These annual gatherings are well attended and are seasons of great enjoyment. Through the kindness of Mrs. W. G. Brownlow, the mother of our colonel, the old flag under which the regiment marched and fought was presented by her to the association and is an interesting memento at our meetings.
The whitening hair, the failing vision and the halting step all prefigure the inevitable hour when all must pass over and join the silent majority beyond.
---
History Of The First Regiment Of Tennessee Volunteer Cavalry In The Great War Of The Rebellion (1902) William R. Carter (Author) - Amazon
---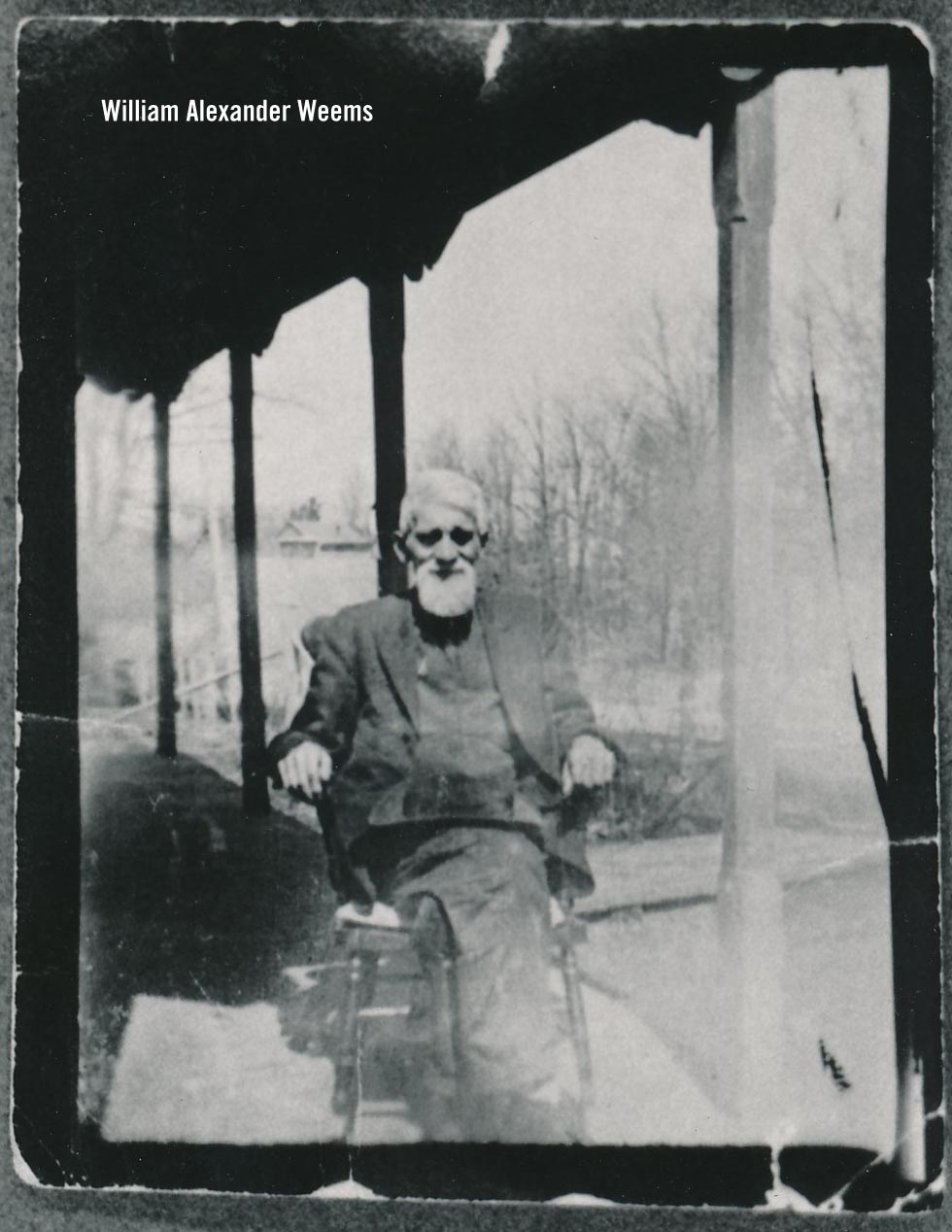 William Alexander WEEMS - 1847–1922 - Company K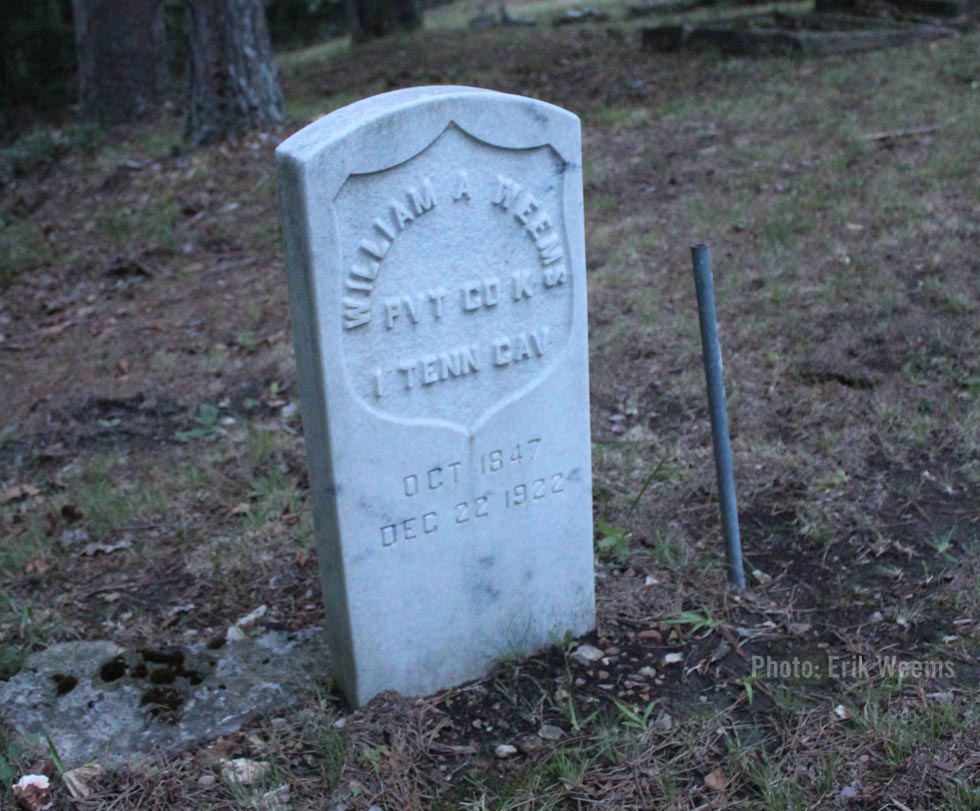 ---
The entire Carter book is online at Hathitrust
---
Please check back.
Site by Erik Weems https://erikweems.com
SOME RELATED LINKS:
Blogspot: First Tennessee Confederate Cavalry
Large James Patton Brownlow photo image at Cowan Auctions (2018)