1ST TENNESSEE VOLUNTEER CALVERY
---
These pages are being put together based primarily on the W. R. Carter history of the Regiment. More to be added. Please check back. - Erik Weems
---
1ST TENNESSEE ORIGINAL ORGANIZATION
(From the Carter book) The first company organized for the
regiment was Company A, yet the first seven companies were
organized during March and April. The following is the
original list of company officers and the order in which they were recruited :
COMPANY A.
Captain, Charles L. Barton; First Lieutenant, John H. Trent;
Second Lieutenant, Moses Wiley.
COMPANY B.
Captain, Richard M. Baldwin; First Lieutenant, Gideon Wolf:
Second Lieutenant, George Odom.
COMPANY C.
Captain, James P. Brownlow; First Lieutenant, Morgan T.
Burkhart ; Second Lieutenant, Elbert J. Cannon.
COMPANY D.
Captain, Alfred J. Lane ; First Lieutenant, W. R. Willoughby ;
Second Lieutenant, George W. Cox.
COMPANY E.
Captain, Henry G. Flagg; First Lieutenant, Charles H. Burdick;
Second Lieutenant, William Thurman.
COMPANY F.
Captain, Thomas J. Capps ; First Lieutenant, Robert A. Wooten ;
Second Lieutenant, John A. Gray.
COMPANY H.
Captain, John A. Gray (promoted from second lieutenant Com
pany F to captain Company H) ; First Lieutenant, Calvin M. Dyer;
Second Lieutenant, Edward Simpson.
The above companies were organized at Camp Garber
and all sworn into the United States service for three years
or during the war. The Fourth Tennessee was not mustered at its organization owing to the fact that no mustering officer was present to perform that duty.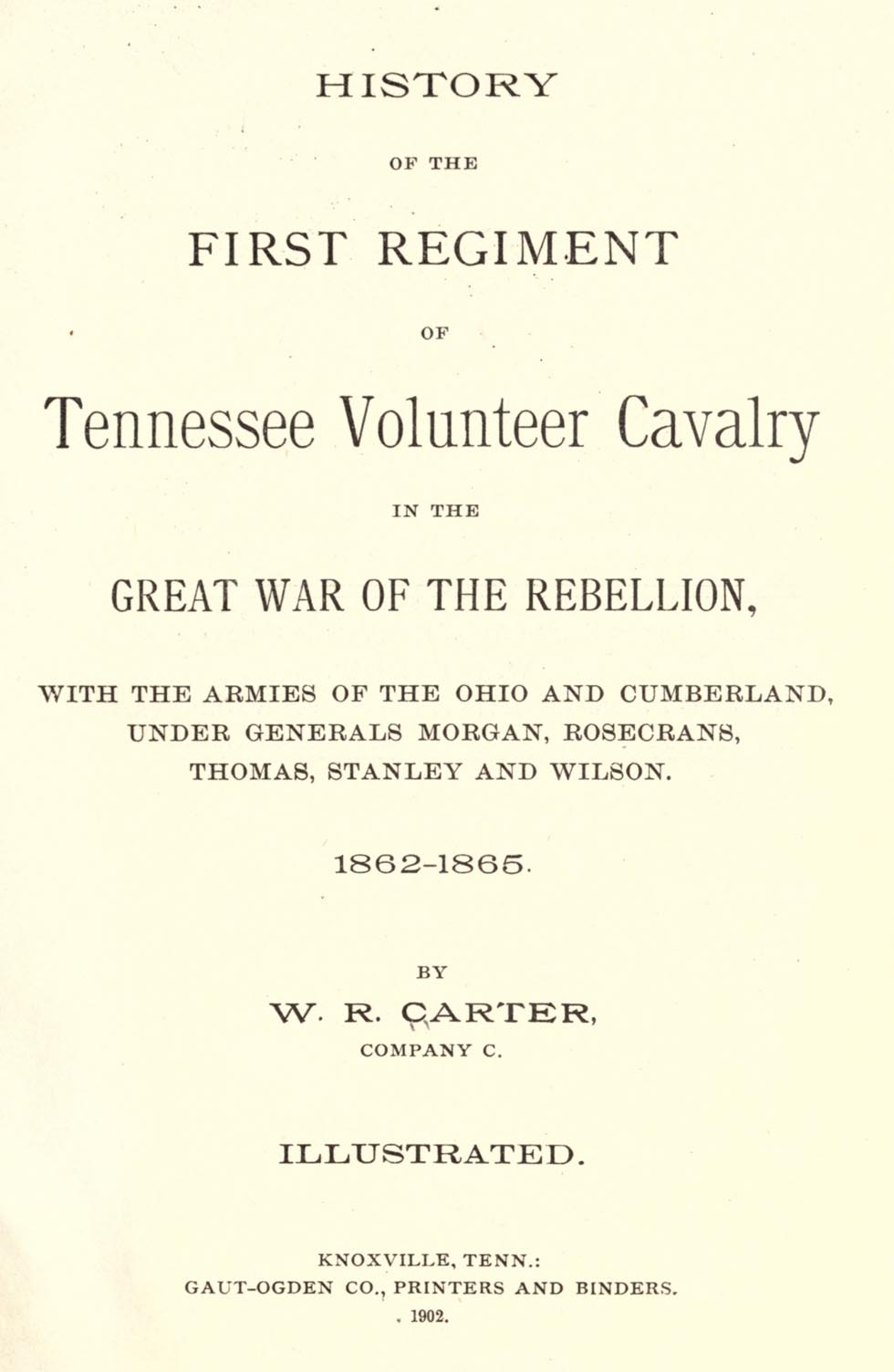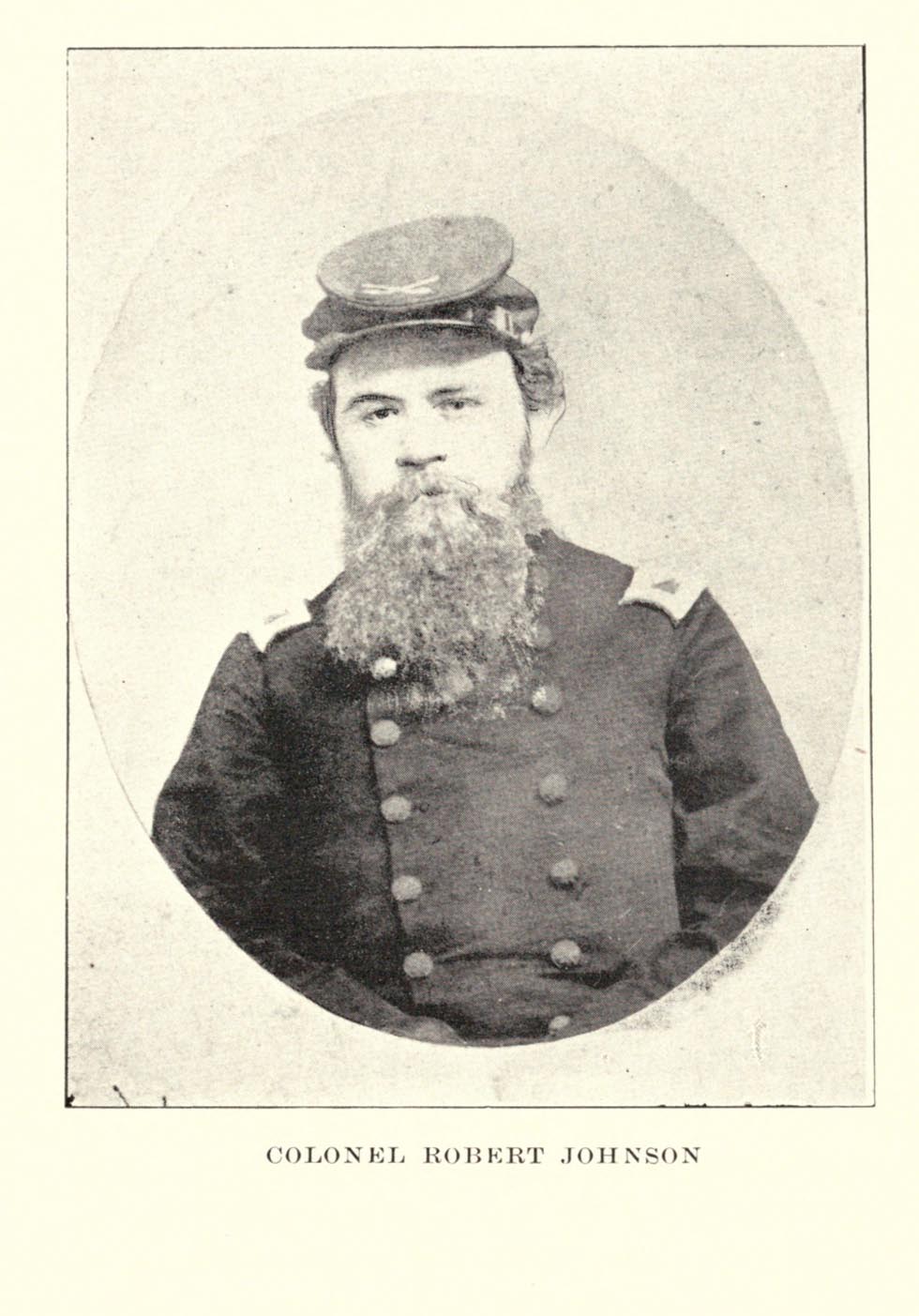 ---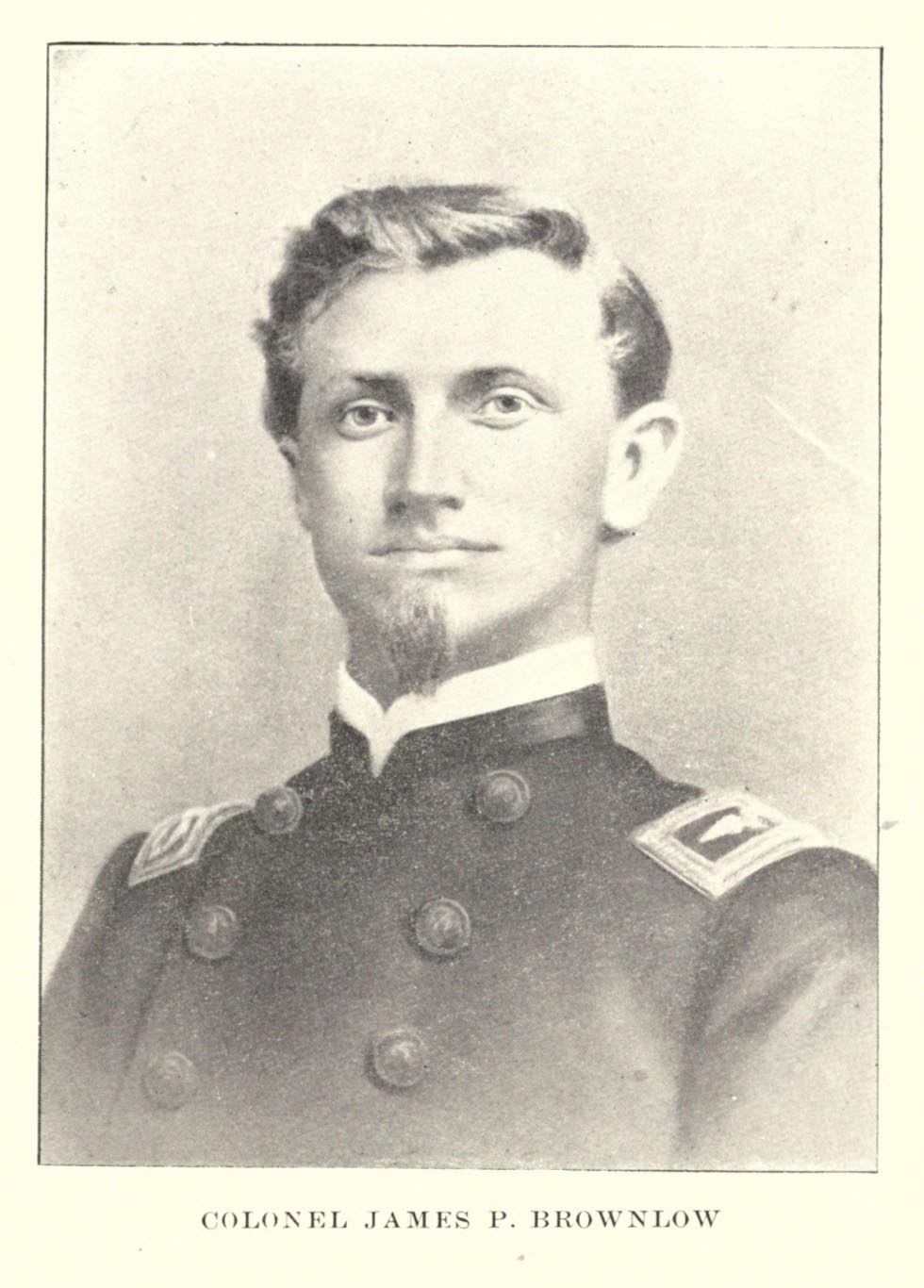 (From the Carter book)
James P. Brownlow, captain of Company C, the youngest captain in the regiment, was promoted. He was the youngest son of Rev. W. G. Brownlow, of Knoxville, more familiarly known as Parson Brownlow, one of the leading Unionists of East Tennessee and editor and proprietor of Brownlow's Knoxville Whig. Captain Brownlow was just nineteen years old when he was promoted to lieutenant-colonel of the Fourth Tennessee Volunteers. He was tall and well proportioned, with keen, penetrating, gray eyes. He was a soldier of fine ability, full of enterprise, energy and courage. He was never heard to say "Go, boys," but always, "Come on, boys!" Agreeable in his manners and accessible to all, he was strictly honorable in all of his dealings with men and the government.
---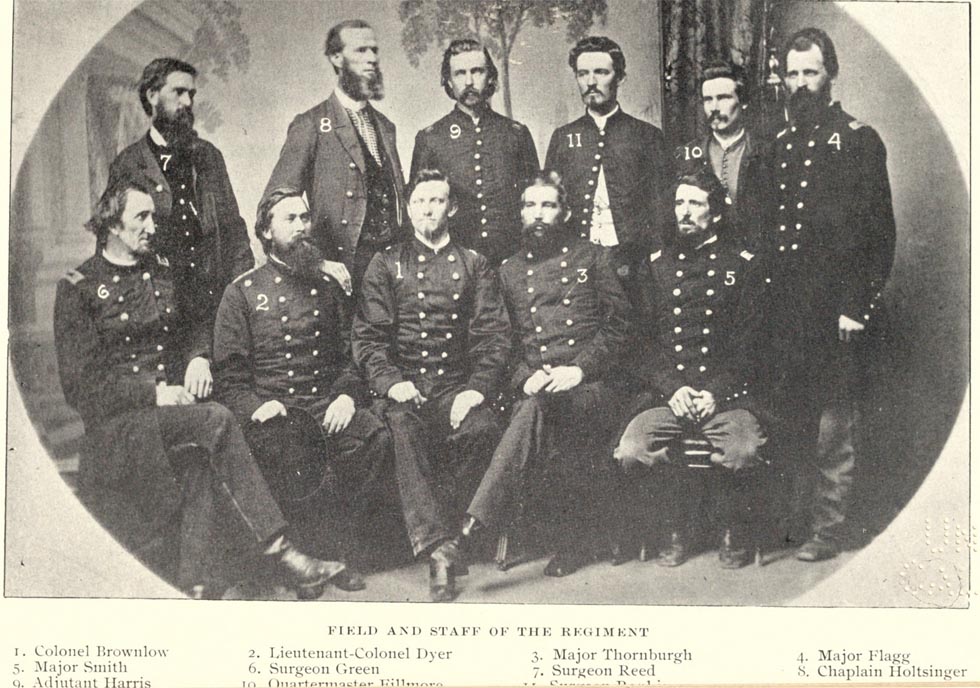 ---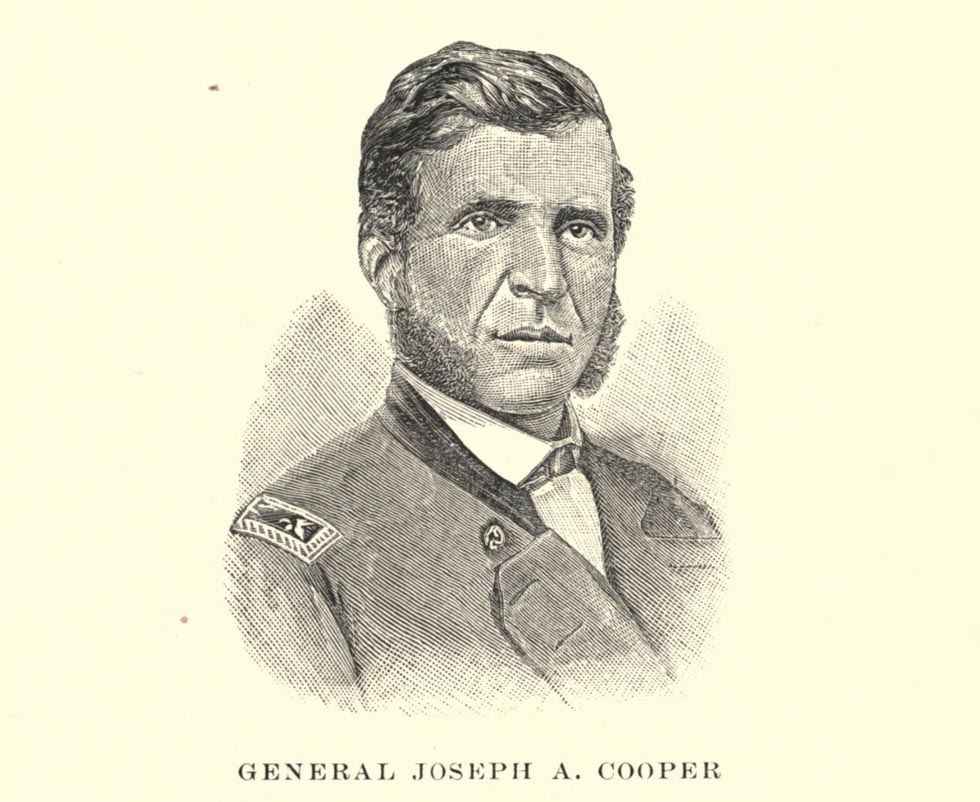 General Joseph A Cooper
---
Evacuation of the Cumberland Gap, 1862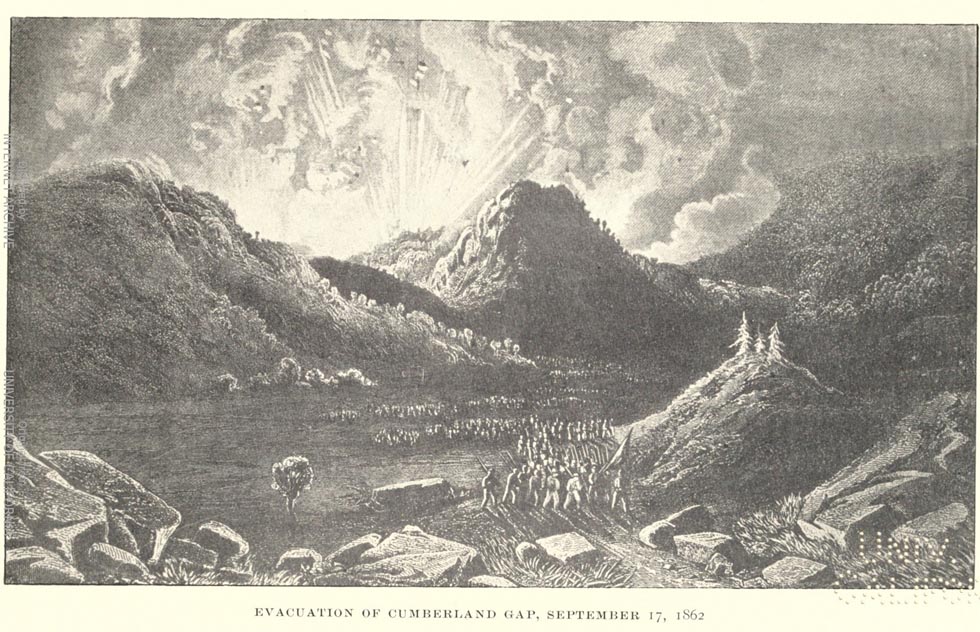 ---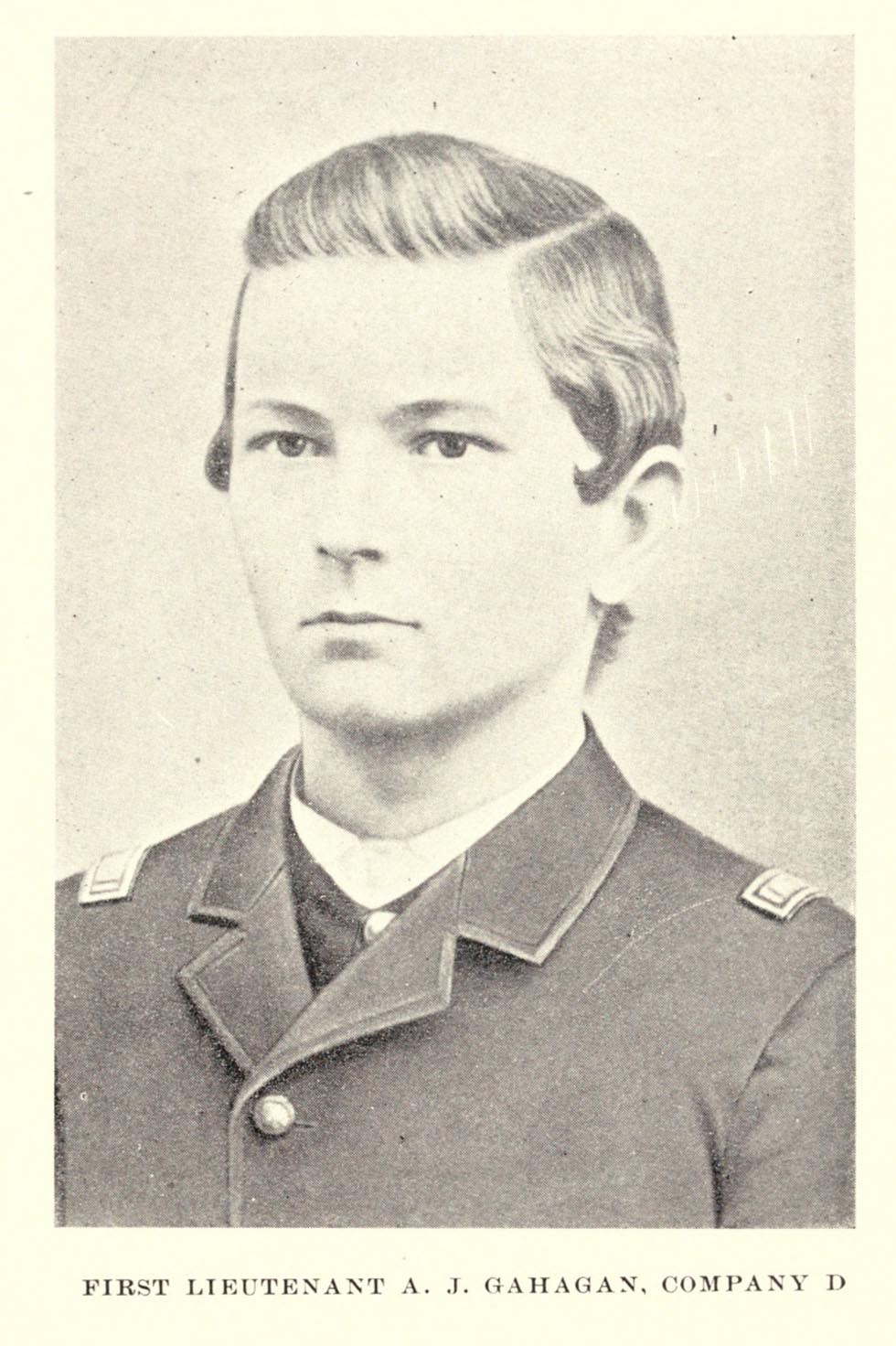 First Lieutenant A J Gahagan
---
First Tennessee Cavalry and the Fourth Alabama Cavalry
From Page 69-70 of the Carter book:
"Colonel Josiah Patterson, Fourth Alabama Cavalry, has this to say of this engagement: "My regiment was often pitted against Jim Brownlow's famous First Tennessee Cavalry, and numerous interesting incidents were related in reference to these passages at arms.
In 1863, my regiment was stationed near Triune, and Brownlow's regiment was operating in the same locality at the same time. Both organizations were game and well equipped, and it was hard to tell which enjoyed a fight the most.
Colonel Brownlow once sent me word to meet his regiment at Rigg's Cross Roads, and he would whip my regiment like h--l. We did not meet at that place, but shortly after that my Lieutenant-Colonel took into his head to capture Brownlow's regiment, and for this purpose entered into a plan with two other regiments, which were to attack from the rear.
Luckily for Brownlow, he had an infantry support, which our men were ignorant of, and when my regiment attacked him from the rear, it got into a hornet's nest. Brownlow ordered a charge, and in less than no time my regiment was getting out of there in a hurrry, with the mountaineers whacking at them with their sabers right and left. About two hundred of my men were captured in this engagement."
Colonel Patterson is mistaken about an infantry support, as no other troops except the First Tennessee Cavalry were engaged at this place and time. This charge was made in a blinding snow-storm."
---
"Dog" Tents
From Page 73 of the Carter book:
"The large tents that had protected us so well during the winter from cold and rain were exchanged for shelter- tents "dog-tents" the boys called them. Everything was put in trim for an active campaign and a grand forward movement.
In active campaigning, the soldier carries his small tent (dog) and he and the comrade who is his "partner" put the two pieces together, which makes a comfortable protection from the weather.
His haversack contains his rations, while from his belt or saddle clatters a small coffee pot or pail, and in less than a half-hour after a halt the veteran knows how to prepare a wholesome meal of bacon, coffee and crackers, familiarly known as "hard-tack."
This new-fangled tent was very appropriately named by the boys, and was little better than no tent."
---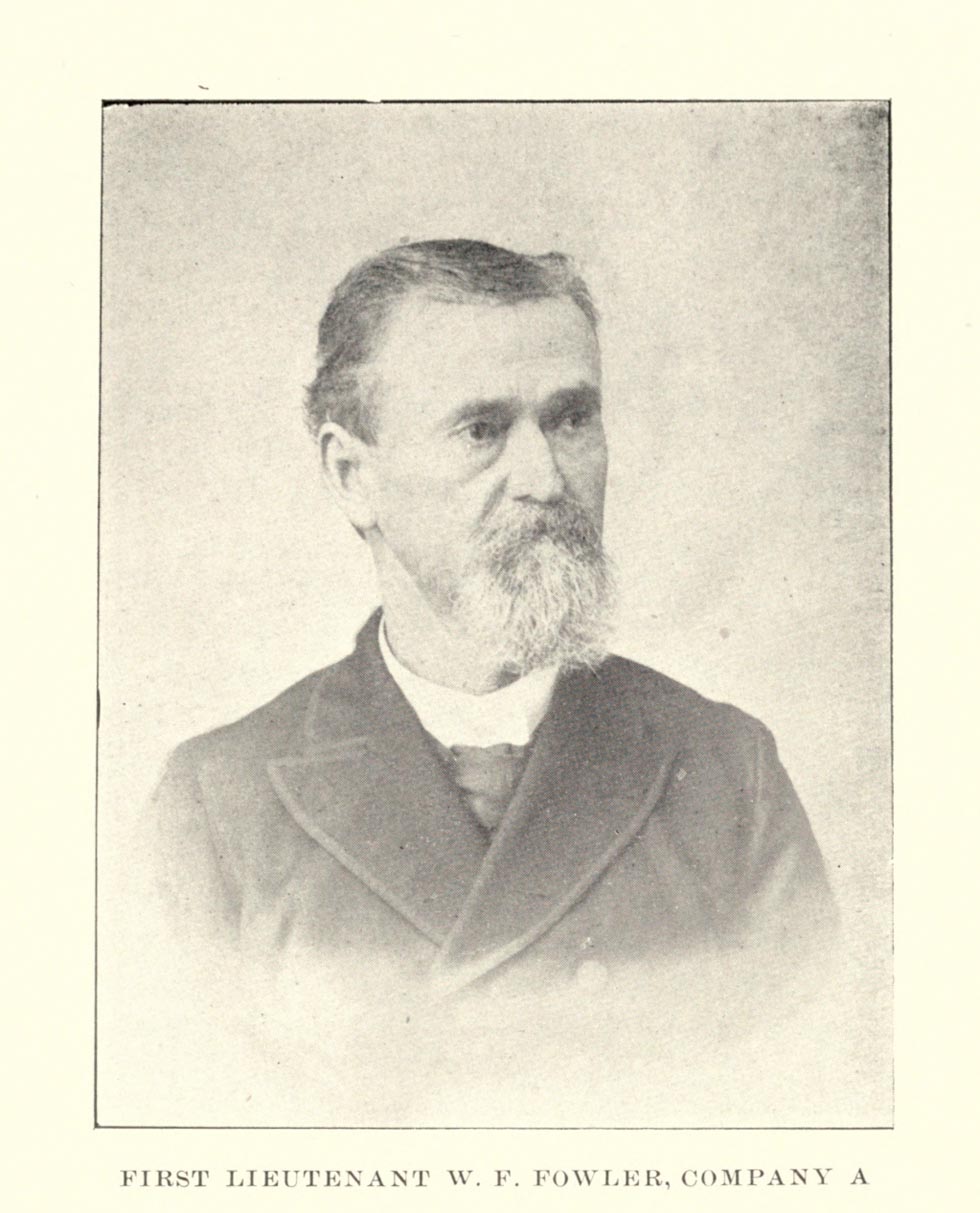 First Lieutenant W F Fowler
---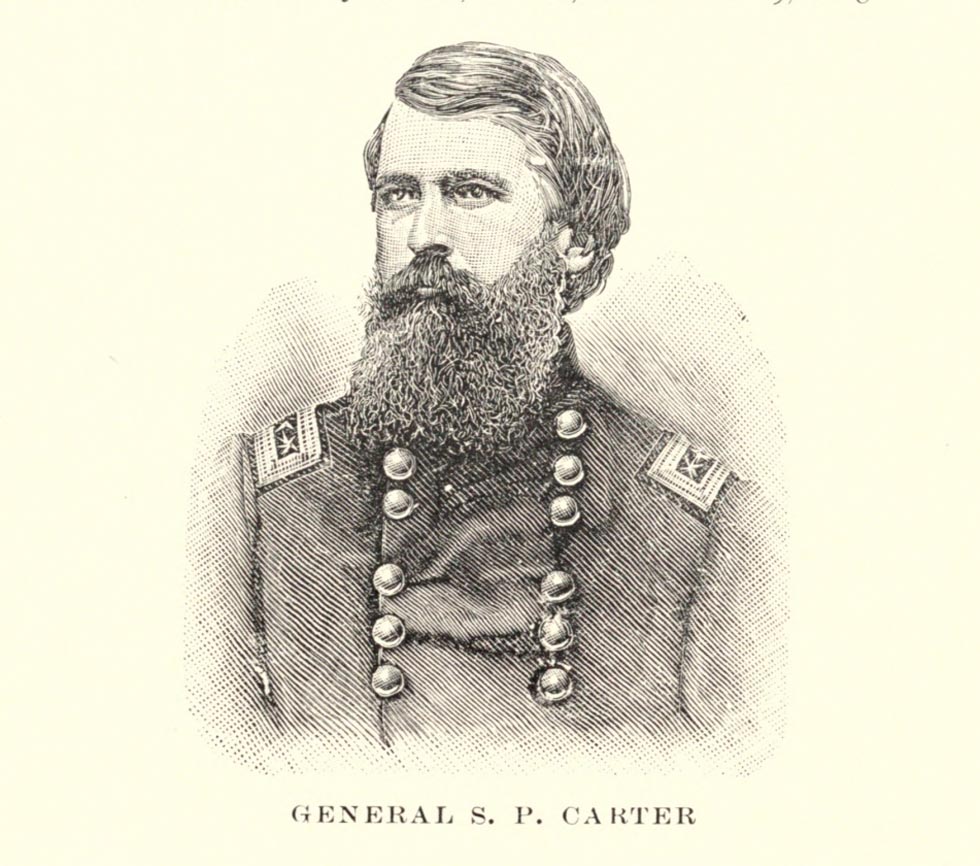 General S P Carter
---
Battle of Mossy Creek
From the Carter book - Page 130-133
Once more the order came to fall back, and as we moved to the left, the solid shot and exploding shells went crashing through the trees, doing no harm except cutting off limbs and tearing up trees. The enemy now seemed more bold and defiant, and with superior numbers expected to win an easy victory. We moved only a short distance to the left, where a new line of battle was formed, with the FirstTennessee in the center. Our lines were hardly formed when the enemy came charging upon us in such overwhelm ing numbers that we were driven back and the day seemed lost. The enemy used every effort to confuse and break our retreating lines, but all their attempts were fruitless.
Oh, how we longed for the old Second Brigade of our division! The day was fast wearing away and the sun was almost lost behind the western hills, and whatever was to be done must be done quickly, or the day would be lost. The fighting was severe all along the line, and we were again compelled to yield ground, falling back a short distance to the edge ofthe woods.
The enemy, seeing us falling back, now rushed on after us with their well-known "rebel yell," and when they reached the edge ofthe wood Colonel Brownlow ordered his troops to fire, but, disregarding the effects of so hot a fire, they continued to advance.
Colonel Brownlow, seeing the boldness and courage that the enemy were displaying in still advancing upon him under so hot a fire, suggested to Campbell the propriety of making a spirited saber charge, believing this to be the only means of saving the day, as "desperate diseases require desperate remedies." Colonel Campbell remarked that such a line of battle could not be broken by a cavalry charge. Colonel Brownlow, realizing the danger of delay and the importance of immediate action, assumed the responsibility of ordering a charge.
The order was given to draw sabers, and with a yell the First Tennessee, with its well-known gallantry, rushed upon the enemy in one of the most daring charges ofthe war. The spirit, courage, boldness and audacity with which the charge was made has scarcely ever been equaled in the war, and the important effect that it produced was a matter of astonishment to those who witnessed it. We drove the enemy back into the woods, retaking a part of the lost ground, but were forced back with some loss, bringing back as prisoners, however, one officer and twenty-five enlisted men.
At this critical moment a portion of Mott's brigade, Second Division, Twenty- third Corps, came upon the field. Cavalry, infantry and dismounted men now charged upon the enemy, who began to show signs of wavering, pouring volley after volley into their ranks, driving them through the woods in great confusion. The Second Brigade, which had been recalled, now reached the field and entered heartily into the chase, which was continued for some distance, halting only when it became too dark to distinguish friend from foe.
This was one o fthe most spirited and hotly contested cavalry engagements that occurred during the East Tenne see campaign, and considering the severe fire to which the regiment was exposed for so long, its escape from great loss was one of the many lucky ones."
The First Tennessee does not claim all the honor or to have done all the fighting on that day, yet it is true that the regiment bore an honor able part and fully sustained the brilliant reputation ofthe old "Volunteer State." General Martin had in this engagement the divisions of Morgan and Armstrong, numbering at least six thousand men, and with this superior force no doubt expected to win an easy victory.
The casualties of the First Tennessee in this engagement were as follows :
Killed and Died of Wounds Company D, First Lie tenant Geo. W. Cox, Corporal W. W. Wells and Private Henry Wampler; Company I, Corporal Andrew J. Drake and B. F. Hansford (died in hospital at Knoxville, date unknown) ; Company C, Captain Elbert J. Cannon (mortally wounded, died December 31), and Thos. G. Farrow; Company E, Robert A. Vaughn ; Company G, L. L. Cope.
Wounded Company A, William Simpson; Company F, Sergeant James Higgs and John Sweeney; Company C, Geo. W. Troutt and Henry O. Newman ; Company K, Sergeant Alfred F. Rhea and Harvey Bales ; Company G, Se geant Frank Cunningham (severely) ; Company M, Elihu McNeece.
Killed and died of wounds, two officers and seven enlisted men ; wounded, nine enlisted men ; total, eighteen.
The First Tennessee lost some of its best and bravest men in this engagement. Captain Cannon and Lieutenant Cox were the first officers of the First Tennessee to fall in battle and both fell leading their men in the moment of victory. They were officers of great promise, full of energy and thoroughly patriotic, were model soldiers, were men of unflinching courage and uncompromising integrity. They fell in the discharge of their duty, and their sudden removal at that moment was a loss we all keenly felt. Their vacant places cannot be filled, and the regiment mourned their loss.
Captain Cannon and Lieutenant Cox were two ofthe original officers of the regiment. Captain Cannon was a Jefferson county man, and was killed almost in sight of his home. On the death of Captain Cannon, First Lieutenant Jacob K. Lones assumed command of Company C, and was shortly afterward promoted to captain. A. J. Gahagan was promoted from second to first lieutenant after the death of Lieutenant Cox.
General McCook, who commanded the division at the battle of Mossy Creek, makes mention of the gallantry of the First Tennessee in his report, as follows :
"The gallant First Tennessee Cavalry and their brave young commander, Colonel Brownlow, added new laurels to their brilliant rep tation by the splendid saber charge they made. Among the other brave men whose loss we are called upon to mourn are Captain Cannon and Lieutenant Cox, First Tennessee Cavalry, who fell at the head, leading a charge of their soldiers."
Major H. C. Connelly, Fourteenth Illinois Cavalry, in a well-written article on "Campaigning with Burnside in East Tennessee," makes honorable mention of the gallantry of the First Tennessee at Mossy Creek. He says :
"General Elliott, commanding a fine division of cavalry from the Army ofthe Cumberland, reinforced us. * * *
On the morning of December 29, Longstreet advanced with most of his cavalry, a division of infantry and two batteries of artillery. Our loss this day was about one hundred killed, wounded and missing. The enemy lost from two hundred to four hundred. We buried twenty of their dead. In this fight the First Tennessee Cavalry, commanded by Colonel Jim Brownlow, made a saber charge which did honor to this dashing officer and his soldiers." * * *
"The neighing troops, the flashing blade,
The bugles stirring blast,
The charge, the dreadful cannonade,
The din and shout are past."
Soon after the battle of Mossy Creek, the Confederate cavalry fell back to Morristown and we spent the remaining days of the year quietly in camp. Drills and dress-parades were almost forgotten and were things of the past. Every one doubtless remembers the first day of January, 1864 Happy New Year as the cold one. It is very forcibly fixed in the minds of the men composing theFirstTennessee, for a heavy detail was made from the regiment for picket duty on the first day ofthe year. The night was exceedingly cold, and many of the men were badly frost-bitten on the picket- line.
---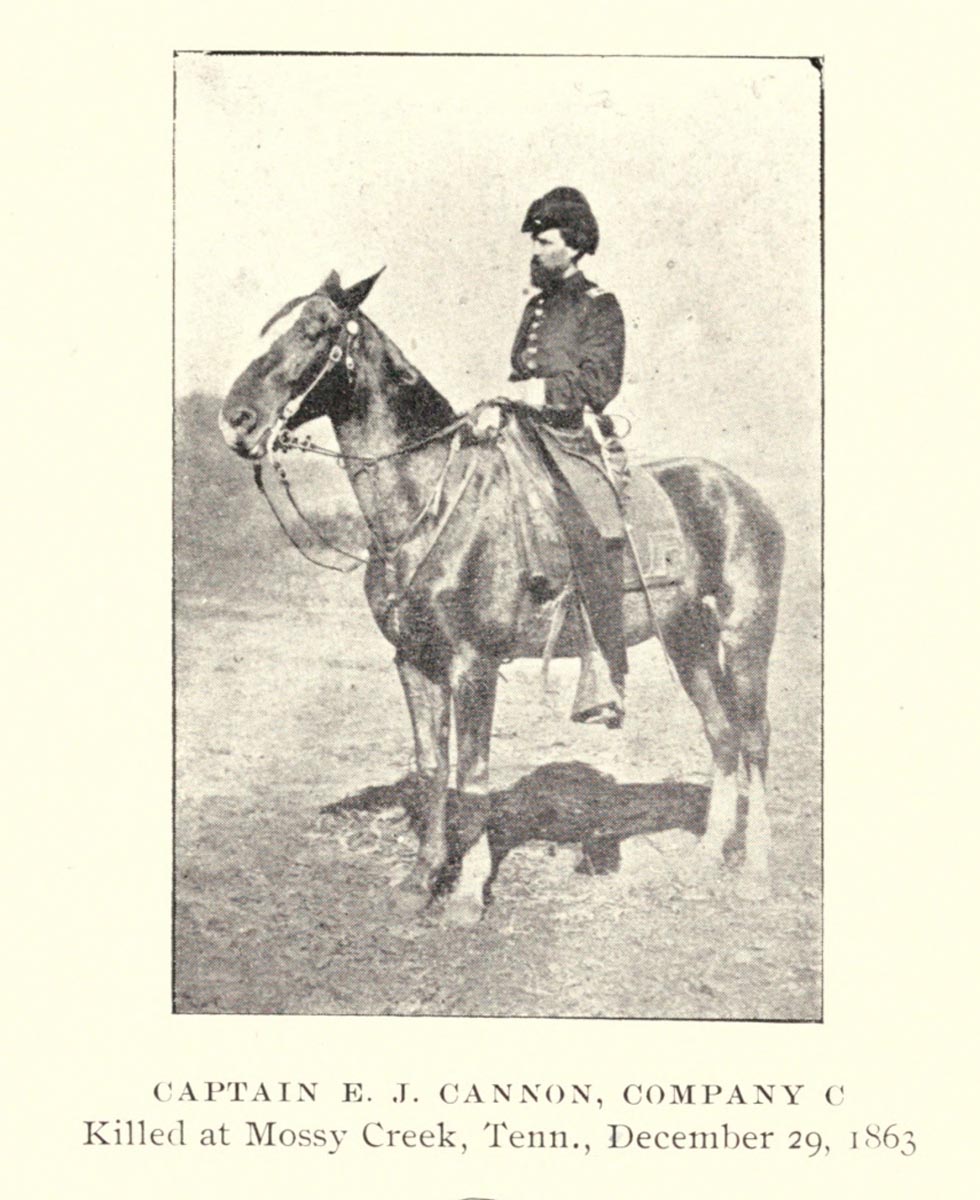 Captain E J Cannon
---
Battles and Casualty Count for the First Tennessee Regiment
From the Carter book - Page 260-261:
The total enrollment of the First Tennessee during its term of service, from the best and most reliable source, was fourteen hundred and ninety-three men. The regiment lost in killed and died of wounds and disease, three hundred and thirty-three men. Those that died in prison are included in this list. Three men from Tennessee committed suicide during the war and one of this number was from the First Tennessee.
The most frequent causes for discharge from the army were gunshot wounds, consumption, diarrhea and typhoid fever. The largest number of deaths from disease in the army occurred from chronic diarrhea and fever.
The First Tennessee lost more men from fever than any other disease. During the war there were two hundred and ninety-eight battles fought in Tennessee, Virginia alone exceeding the "Volunteer State."
The seven National Cemeteries located in Tennessee contain the remains of fifty-seven thousand and five of the Union dead who gave up their lives in order that this great and growing country might remain undivided. The largest cemetery in Tennessee is located at Nashville. The remainder are given in the order as to the number of interments in each: Memphis, Chattanooga, Stone River, Pittsburg Landing, Knoxville and Fort Donelson. Their graves are kept green at the expense ofthe government they helped to save, and their surviving comrades and friends on each 30th of May perform a loving and patriotic duty by recounting what they did in song and story and the placing of flags and Mowers upon their graves. The dead of theFirst Tennessee lie buried in all of the cemeteries of their native State, with the exceptions of Pittsburg Landing and Fort Donelson.
The First Tennessee met the enemy at the following places:
Cumberland Gap, June 18, 1862; Rigg's Cross Roads, Tenn., April 16, 1863 ; College Grove, Tenn., May 8, 1863 ; Rover, Tenn., June 23, 1863 ; Middletown, Tenn., June 24, 1863; Shelbyville, Tenn., June 27, 1863; Lafayette, Ga., Sept. 13, 1863; Chickamauga, Ga., Sept. 19 and 20, 1863 ; Sparta, Tenn., Nov. 30, 1863 J Dandridge, Tenn., Dec. 24, 1863 ; Mossy Creek, Tenn., Dec. 29, 1863 Fairgarden, Tenn., Jan. 27, 1864; Varnell s Station, Ga., May 9, 1864; Resaca, Ga., May 14, 1864; Burnt Hickory, Ga., May 26, 1864; Brownlow s Hill, or Acworth, Ga., June 4, 1864; Lost Mountain, Ga., June 16, 1864; Mason s Church, Ga., July 23, 1864; Lovejoy s Station, Ga., July 29, 1864; New- nan, Ga., July 31, 1864; Lavergne, Tenn., Sept. i, 1864; Franklin, Tenn., Sept. 2, 1864; Campbellsville, Tenn., Sept. 5, 1864; Pulaski, Tenn., Sept. 27, 1864; Shoal Creek, Ala., Nov. 5, 1864; Hurt s Cross Roads, Tenn., Nov. 29, 1864; Franklin, Tenn., Nov. 30, 1864; Nashville, Tenn., Dec. 15 and 16, 1864; and Lynnville, Tenn., Dec. 24, 1864.
In addition to these engagements the regiment had scores of skirmishes, some of which were quite severe, and the writer is unable to recall a single instance in which the First Tennessee ever refused or failed to execute any order given to it, no matter how difficult and dangerous the execution appeared. Colonel Brownlow was never heard to say "go, boys," but always "come." Lieutenant-Colonel Dyer led the regiment with equal gallantry after Colonel Brownlow was wounded.
---
Carter's Parting Message
From the Carter book, Page 268
Now, comrades of the First Tennessee, I have attempted to follow your movements for three years and to correctly record your deeds and the part you took in the great struggle, but will let you judge of their correctness.
I have followed as best I could your movements in the States of Virginia, Kentucky, Ohio, Tennessee, Alabama, Georgia and Mississippi, the States in which you performed distinguished service. And now, having followed all of your movements from enlistment to muster-out at Nashville, the capital of your own State, and being unable to follow you any further or to accompany each one of you home, I will leave you and bid each one a long and affectionate farewell.
Comrades, it has been one of the most pleasant duties of my life to write a history of your service. But remember, comrades, this has been no small undertaking, and if any errors have been made they are of the head and not the heart.
Since the close of the war the surviving members of the regiment have organized an association known as "The First Tennessee Cavalry Association," which meets annually. These annual gatherings are well attended and are seasons of great enjoyment. Through the kindness of Mrs. W. G. Brownlow, the mother of our colonel, the old flag under which the regiment marched and fought was presented by her to the association and is an interesting memento at our meetings.
The whitening hair, the failing vision and the halting step all prefigure the inevitable hour when all must pass over and join the silent majority beyond.
---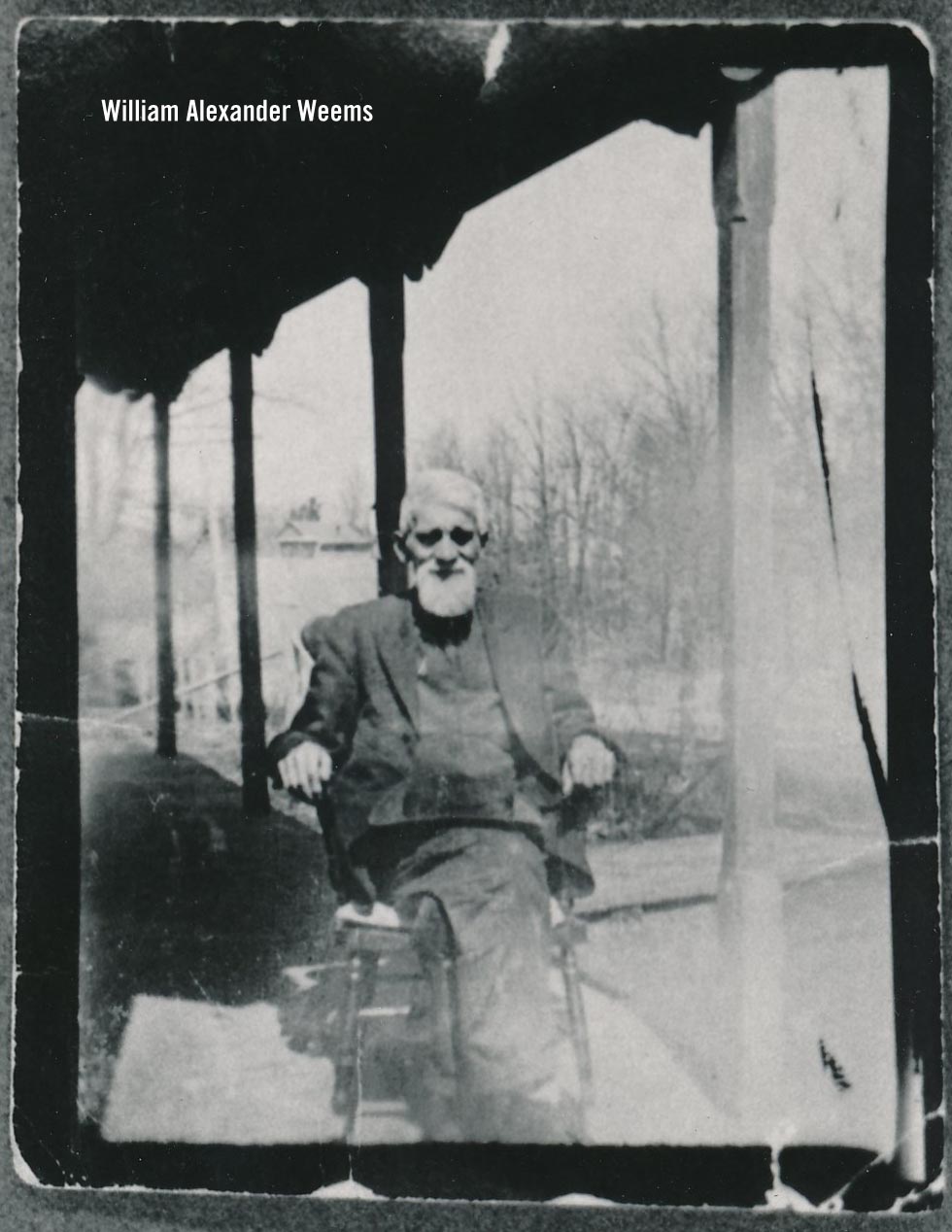 William Alexander WEEMS - 1847–1922 - Company K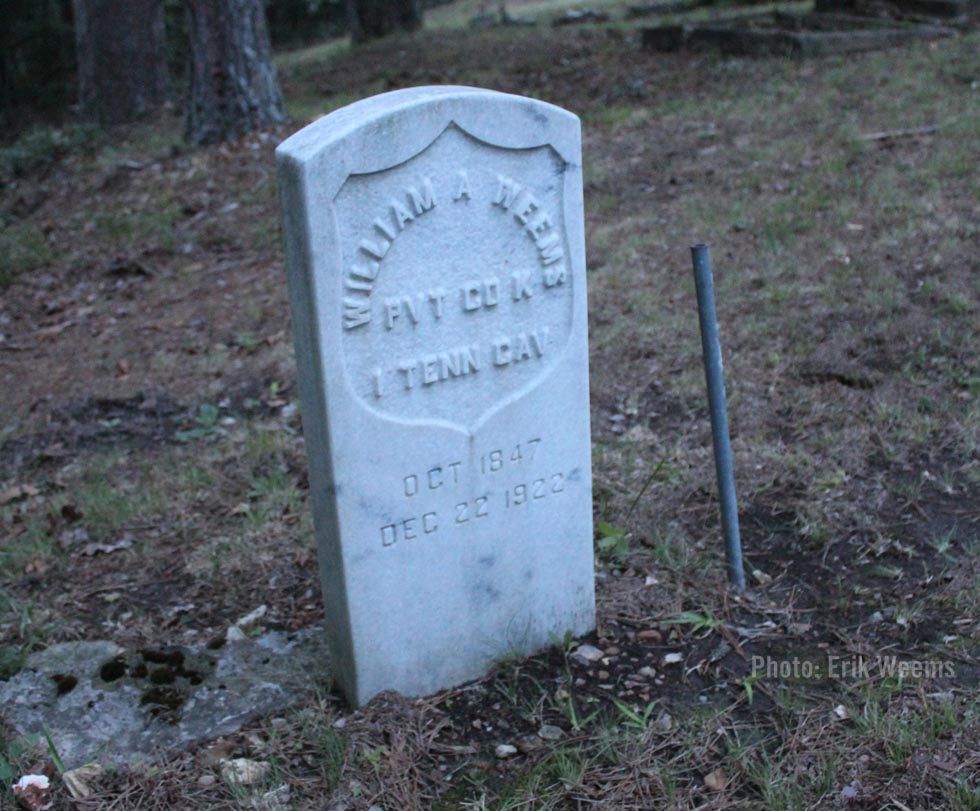 ---
Embed of the HathiTrust digital version of the Carter book at the web site
---
Please check back.
Site by Erik Weems https://erikweems.com
SOME RELATED LINKS:
Blogspot: First Tennessee Confederate Cavalry